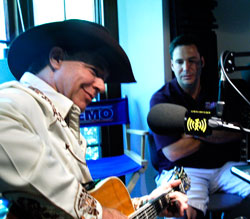 The executive director of the National Biodiesel Board is not just a country music fan, but also a country music singer… well, for his wife and kids at home at least. But today, Joe got a bit more exposure than a home audience. He performed live on the Dave Nemo Show on XM Radio with renowned country music singer/songwriter Michael Peterson.
Michael and Joe also delved into energy issues, renewable fuels and where all that fits in with public policy. Joe says the National Biodiesel Board is aiming to have biodiesel replace five percent of the national supply of diesel fuel. He says that is equivalent to the amount of diesel the U.S. if refining and importing from in Iraq. In other words, he says the National Biodiesel Board is aiming to replace the diesel fuel we get from Iraq.
Some critics arguing against renewable fuels point out that the alternative fuel sources will never fully replace the need for oil. But, Joe says that's not the point, "That's like saying if you can't do everything than you shouldn't do anything." Joe says The National Biodiesel Board simply doesn't share that frame of thought. That's why it has launched the BioTrucker Fuel Card. The card offers card holders cash price on all biodiesel fuel at 5,000 participating locations and special discounts at select truck stops all without any transaction fees. Those interested can sign up for the card at BioTrucker.com.
Both Michael and Joe lauded the farmers that make up the nation's ag industry. Joe says agriculture is a powerful industry that fosters cutting-edge, technological innovation. "Ag is slow to move but powerful to respond," Joe said.
You can listen to the entire broadcast of the Dave New Show with Michael and Joe here:
cma-08-xm.mp3
I also got some videos of Michael and Joe while they were singing and strumming their guitars. You can watch the videos here:

2008 CMA Music Festival Photo Album
AgWired coverage of the CMA Country Music Festival is sponsored by: