The week Cindy will be attending the World Pork Expo in Des Moines with our coverage sponsored by Novus International. I was in their office last week to meet with Jeremy Lutgen and Scott Fleetwood. I did an interview with Scott, who is their Executive Director of Marketing and Products. In it you'll learn a lot more about the company.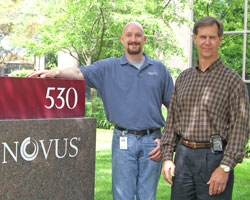 Scott and Jeremy are pictured outside their office in St. Louis. Scott says they've got facilities in 25 locations globally and serve customers in 80 countries. They take pride in "performance through innovation." Cindy will be working out of their booth at Pork Expo where Scott says they'll be helping educate producers about how to improve production through the enhancement of animal nutrition.
When it comes to sponsoring our coverage he says that these types of partnerships are important to establish relationships and help transfer knowledge out to the market place. Cindy will be doing her best to do just that.
This week's program concludes with music from the Podsafe Music Network. Since both Cindy and I will be on the road I picked a song titled, "Travelogue" by George Wood. I hope you enjoy it and thank you for listening.
You can download and listen to the ZimmCast here:

ZimmCast 173 (14 min MP3)
Or listen to this week's ZimmCast right now:zimmcast173-6-1-08.mp3
The ZimmCast is the official weekly podcast of AgWired which you can subscribe to using the link in our sidebar. You can also subscribe in iTunes