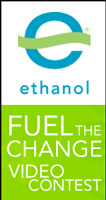 This is shaping up to be an EPIC contest. Actually it is an EPIC contest. Our friends at the Ethanol Promotion and Information Council just started a video contest as a way to help educate consumers about America's energy options. It's called the "Fuel the Change" video contest. If you're interested then you better start shooting and editing today.

Entrants can submit a :30 second video to www.fuelthechange.com. The producer of the winning video will receive a $10,000 cash prize and get the opportunity to have the commercial aired during the 2008 Indianapolis 500 on ABC.
Entries will be judged in several ways. Beginning on February 11, voters will be able to rate the videos posted to the website. In addition, a panel of judges will view the videos and select winners based on consumer votes, creativity, originality, relevance, broadcast suitability, and adherence to contest rules.
The contest runs from January 28, 2008 through April 21, 2008. Winners will be selected on May 7, 2008. The winning entry could air during the 2008 Indianapolis 500 on May 25.
In addition to the first place video prize, a "People's Choice" award will be given, the winner receiving $5,000 and three "Sponsor's Choice" award will be given, the winners receiving $1,250 each. Registered users of the site who vote each day are also entered into a drawing to win weekly prizes including $500 gas cards.