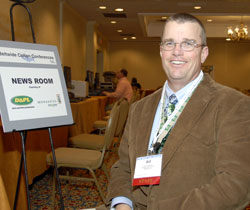 The Manager of Cotton Agronomy, Soils and Physiology for the National Cotton Council is Bill Robertson. He's been with the Council for about a year. Coordinating the Beltwide is one of his duties.
He says that he's also working on reviving the Cotton Physiology Education Program and that one of the key components of that is the Cotton Physiology Today newsletter. I asked him if he'd thought about blogging on the subject. Just an idea. Gotta keep planting the seeds.
Anyway, we did an interview a little while ago so you can learn more about what the Council is doing in terms of education opportunities for growers.
Download my interview with Bill Robertson here: Bill Robertson Interview (12 min mp3)
You can also listen to the interview with Bill immediately here: beltwide-08-robertson.mp3
AgWired coverage of the Beltwide Cotton Conferences
is made possible by:

Beltwide Cotton Conference Photo Album