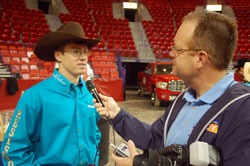 When is gets down to it, someone has to ride the bulls and the broncs in a rodeo. One of the best, actually the best, is BJ Schumacher.
BJ is currently the world champion bull rider and we'll see him in action tonight at the Three Hills Rodeo here in Green Bay, WI.
I talked to BJ about how and why he got involved with rodeo. He started at about 9 years old and learned it all from "the old man." He says you just have to accept the fact that you're going to get hurt too.
Here's my interview with BJ Schumacher:
3-hills-rodeo-07-schumacher.mp3
Thanks to Gene Hemphill for taking some pics of me, for me.