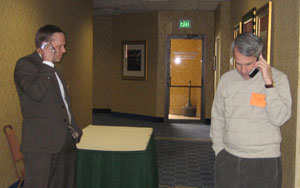 The Missouri Corn Growers Association held a seminar last week in conjunction with their annual meeting on "Profiting in the New Paradigm – Feed and Fuel Security." The focus was on how corn growers and livestock producers can work together to produce ethanol and still feed cows and pigs and chickens at a reasonable price.
One of the speakers was National Corn Growers Association CEO Rick Tolman, pictured on the left. On the right is Farmer Dave Schumacher – the world famous Farm Guy with KTRS radio in St. Louis. The two hooked up via cell phone in the hallway after Rick's presentation to be on the KTRS afternoon show live.
Dave was kind of surprised that his afternoon talkers would be interested in dealing with something so agricultural, but it just goes to show that ethanol is really getting the attention of mainstream media.
I just thought it was a funny picture of the two of them talking to each other on cell phones in the hallway.