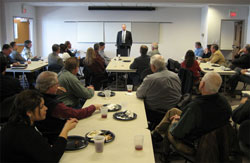 For the first time in a couple of years I got to attend a Mid Missouri Agribusiness Club meeting today while someone else ran it. It's much more relaxing this way.
Today we had our Missouri Department of Natural Resources Director, Doyle Childers, speak. I have to confess that it was more interesting than I thought it would be. For one thing the DNR here in Missouri implements EPA regs unlike states where EPA does it themselves. So as you can imagine DNR then has a hand in a lot of things important to anyone trying to farm. Childers says they hope to automate a lot of the permitting that has to go through their department in order to speed things up and decrease the man hours involved.
Water was a big topic of discussion. Bioenergy came up and Childers said that his department needed to become more involved in it as well.
He said that in his two years as the state DNR Director he was most proud of the closer working relationship DNR has with the ag community and the updating of their website to make it easier to find stuff.