The Food and Agricultural Policy Research Institute (FAPRI) at the University of Missouri analyzes U. S. and world agricultural policies and makes predictions. FAPRI program directors, Scott Brown and Patrick Westhoff made a presentation summarizing many of their commodity outlooks at today's Gateway NAMA chapter meeting which was held in conjunction with the St. Louis AgriBusiness Club.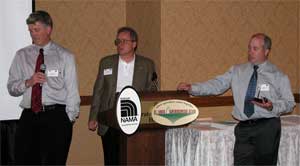 Pictured (l to r) are Patrick Westhoff, St. Louis Ag Club outgoing president, Dave Drennan and Scott Brown. Patrick was kind enough to email me his slides from the presentation today. You can view them (PowerPoint) here: FAPRI Crops Presentation
This was the last meeting until the fall for both organizations.