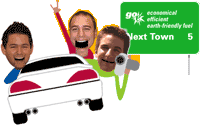 I pointed you to the GoE guys before. Have you been keeping up with their summer road trip? All you gotta do is subscribe.
Anyway I really like what they're doing and how this demonstrates blogging as a promotional tool. In one of their latest posts the guys visited Hebron, ND. They liked the name so much that ". . . we liked the word Hebron. So, we've decided to make it applicable to anything and everything. Meaning that we can use it as a noun, verb, ajective, or adverb at any time we want, just so we can give ourselves as many opportunities to say Hebron as we can. Example: Hey, cool hat man! That is totally hebron! or Wow, I've had a heck of day. I'm pretty hebronned out. See what I mean. It's pretty cool, huh?"
I think they're funny and this is a great promotion.