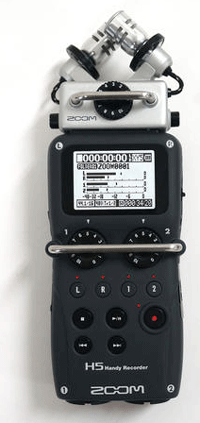 Okay farm podcasters. Here's some news you can use. Zoom just announced a new audio recorder. From B&H Photo:

Zoom turned the pro audio world upside down last year with their acclaimed H6 portable recorder, and now they complete the "one-two punch" with the introduction of their new, smaller H5 Handy Recorder. Following in its big brother's footsteps, the H5 features an interchangeable microphone system and is compatible with the existing line of H6 mic modules.
Appealing to those who are looking for the functionality of the H6, but don't need all of its inputs or bells and whistles, the H5 has a black-and-white screen (as opposed to the H6's color screen) and features 2 inputs for external sources, in addition to its swappable stereo mic capabilities. The H5 will record to external SD cards.

But that's not all. For you iPhone 5 people they now make the iQ5. And yes, I did order one. Wish they had it in gold though . . .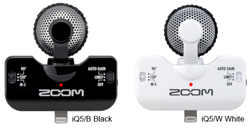 The Zoom iQ5 is a high-quality mid-side stereo condenser mic, perfect for recording music and compact enough to be slipped into your pocket. Simply connect it to the Lightning connector of your iPhone, iPad or iPod Touch and get ready to do some serious stereo recording any time, any place.
The iQ5 employs a unique rotating mechanism that enables audio recording with correct left-right stereo orientation whether used vertically or horizontally. Use it in standard "audio" position or simply rotate it to the "video" position in order to record video with the attached iPhone, iPad or iPod touch held horizontally.
And finally, consider their Handy Recorder App for iOS.