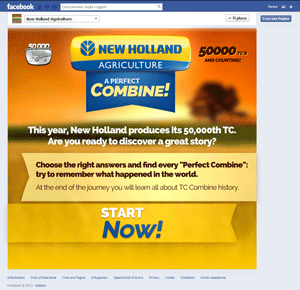 For New Holland the Perfect Combine is an initiative celebrating the production of the 50,000th TC New Holland. It happened in the Plock Poland plant in October.
To celebrate the milestone the company is taking a look back through the history of the combine model with the use of a Facebook App.

When users access this app, they will be involved in a quiz, having to answer some questions about the product's history as well as the world's history. Questions will trigger the ability of users, who can prove their knowledge about every single detail of TC Combine's history… definitely a challenge for real New Holland fans!

The initiative is shareable thanks to the creation of special digital postcards, different according to the question answered. Each user who answers all the questions will gain a special info graphic, delivered by the app, to share with friends.

Celebrate this important goal for with New Holland in a funny and easy-going way.