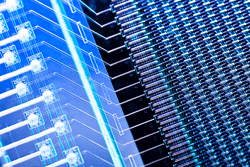 Fluidigm Corporation held a joint press conference this morning with the USDA's Agricultural Research Service to announce their new reusable bio-chip architecture which is a first for the commercial market.

These reusable integrated fluidic circuits (IFCs) will dramatically lower SNP genotyping costs and are designed to support accelerated sample throughput, while maintaining data quality of 99.75 percent or greater accuracy and 99 percent or greater call rates.
Fluidigm initially invented this architecture to support a progressive new program driven by the Agricultural Research Service (ARS), the chief scientific research agency of the United States Department of Agriculture (USDA). The program's goal is to drive high sample throughput genotyping down to a penny-per-data-point, which would enable widespread adoption of genetic analysis in vegetable and fruit seeds, livestock (cattle, pigs, sheep, poultry, etc.) and fishery management. This will significantly improve the quality and quantity of the food supply, while lowering production costs.
I spoke to Fluidigm President/CEO Gajus Worthington to learn more about the announcement and what it means to consumers today.
You can find the full release here (Word Doc) and listen to my interview with Gajus below.
Podcast: Play in new window | Download