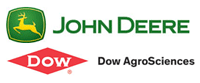 Here's a development that comes right out of the John Deere Developer's Conference this year in which the company opened up it's MyJohnDeere platform to other companies to develop applications that would integrate with all the data that the platform creates.

Helping farmers get more value per acre through the expert analysis of production data is the goal of a collaboration announced between Dow AgroSciences LLC, a wholly-owned subsidiary of The Dow Chemical Company (NYSE: DOW) and John Deere. The companies announced today that they will work together to develop approaches and technology that will deliver data and provide information to farmers that will assist in the execution of site-specific applications to improve yields and manage costs. Specifically, Dow AgroSciences has signed on to leverage the MyJohnDeere platform and new cloud-based technologies for future delivery of customized prescriptions tailored to the grower's environments.
This agreement will help Dow AgroSciences' customers take full advantage of the company's products through optimal placement of technology into specific environments based on a farmer's field conditions. Bringing together production information with analysis from company experts and channel partners will enable specific product recommendations from a broad portfolio of corn hybrids. This precision enables effective management of inputs and the ability to monitor crop development which ultimately can drive increased yields.
"This collaboration is part of our strategy to deliver innovative Dow AgroSciences solutions tailored to each farmer's specific environment," says Larry Robertson, global corn project leader, Dow AgroSciences. "Exploring the promise of precision product placement is important to our customers and we are pleased to work with John Deere on approaches that ensure the best product and management tools are put to use on each acre."

I spoke with Larry about what this collaboration means to Dow and its customers: Interview with Larry Robertson