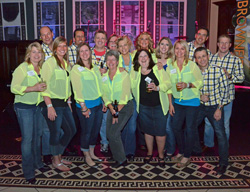 Some people seemed to be moving a little slow this morning at the Agri-Marketing Conference. Could be a little bit of Brownfield Party Syndrome. Happens to the best of us!
Last night Brownfield partied on in style at the Dubliner in the K.C. Power & Light area. Cindy and I were there with cameras in hand to "document" it for you viewing/sharing pleasure. As of this post I've got about half our photos uploaded. I'll get the rest done by tomorrow morning. Outside of these photos we all know that what happens at a Brownfield party stays . . . Right?
Cindy and I have a lot more Agri-Marketing Conference information to share in the coming days. In the meantime you can also view/share almost 400 photos from the conference here.