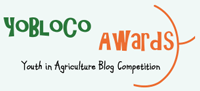 Here's a chance to support young agricultural bloggers. It's the Youth in Agriculture Blog Competition or YoBloCo Awards. The entries are all in and it's time for the public to vote. It's a very simple process too. You can vote here.

The Technical Centre for Agricultural and Rural Cooperation ACP-EU (CTA), in collaboration with FARA, Yam-Pukri, CAFAN, AYF, ANAFE, SPC, PAFPNET and e-Agriculture is pleased to launch the 2nd Edition of the Youth in Agriculture Blog Competition (YoBloCo Awards).
This contest is organised in the framework of the ARDYIS project, which aims to raise youth awareness and improve their capacity on agricultural and rural development issues in ACP countries using Information and Communication Technologies (ICTs).
The aims of this blog competition are to:
Put into limelight issues, successes and challenges faced by youth engaged in agriculture, in urban and rural areas
Encourage the production of information and the use of new information and communication technologies by young farmers groups and organisations interested in the youth in agriculture question
Promote the sharing of information on the issues of agriculture and rural development in African, Caribbean and Pacific (ACP) countries