Growing up, no one liked to talk about the possibility of going to summer school. But the folks who attended the recent 83rd Annual Meeting and Trade Show of the American Society of Farm Managers and Rural Appraisers and AgroNomics Conference & Trade Show welcome the opportunity to take part in their organization's Summer Education Week.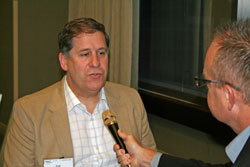 "It's an intensified week, [and it's open] to any member," from newbies to experienced professionals, according to Paul Joerger, ASFMRA President. He added that the wide range of experience levels means ASFMRA needs to come up with topics that apply to everyone and their businesses. "One that comes to mind real quick is a negotiating class, [because] everybody's negotiating something at sometime."
And, echoing a common theme at the conference, Joerger said the networking members are able to do at this education week are invaluable. "That's where you can find out about other ideas, you can bounce ideas, and that is as much as benefit as listening to experienced people speak in the classroom."
He said the class is usually held in mid-July with signups held in mid-May.
Listen to Chuck's interview with Paul here: Interview with Paul Joerger, ASFMRA President
AgWired coverage of the ASFMRA Agronomics Conference is sponsored by Halderman Farm Management.