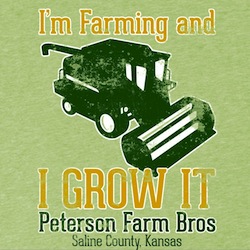 The Agvocacy 2.0 Training would not of have been complete without a surprise performance from the Peterson Farm Boys. Their YouTube video, "I'm Farming and I Grow It" went vial this summer and has almost reached 7 million views. Greg and Nathan Peterson not only performed but took time out of their busy schedule to talk with us about why they made the music video parody and why they share their passion for agriculture.
After I waited in line for fans to take the opportunity for some photo opts, I got to talk with the boys. You can find my complete interview below.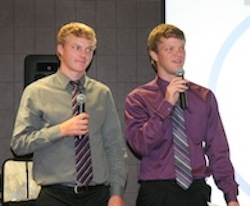 The Peterson Farm Boys YouTube Channel is stock full of videos educating viewers about the world of agriculture. Greg shared the simple equipment he uses to shoot and edit the videos. You don't have to be a professional. We can all share our story.
Both Greg and Nathan will be at K-State this fall while their younger brother Kendal finishes up high school. All three brothers still work on the farm and even if their future careers take them off the farm, they won't go too far from their roots of faith, family & agriculture.
You can order your very own I'm Farming and I Grow It t-shirt. Wear it proudly and see how many conversations you can strike up about agriculture anywhere you go.
Listen to my interview with the Peterson's here: Interview with The Peterson Farm Boys
Here's where our photos can be found. 2012 Agvocacy 2.0 Conference Photo Album