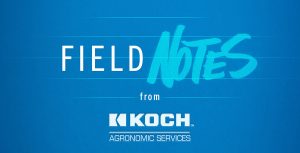 Koch Agronomic Services (Koch) is breaking down the science and technology behind nitrogen loss and soil health. Field Notes, an online educational platform from Koch, will help arm growers and retailers with the knowledge to increase their operational efficiencies.
Throughout the year, Koch will release new Field Notes content from crop science and industry experts in the form of videos, articles and podcasts to be released onto KASFieldNotes.com.
"We wanted to offer growers and retailers a series of in-depth tools that could help explain the complexities of agronomic processes," says Steve Coulter, senior vice president at Koch. "In the situation we're currently facing with COVID-19, most people aren't able to have their usual face-to-face meetings. We believe Field Notes will be extremely valuable in assisting producers determine what's best for their operations."
The third episode of the Field Notes podcast series from Koch Agronomic Services was just posted yesterday featuring Retailer Perspectives on Nitrogen Loss. The series has already featured episodes on Understanding Nitrogen, and spring weather's impact on nitrogen and input issues growers could face.