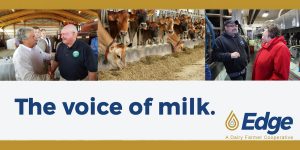 Groups representing dairy farmers and cooperatives in the Midwest are urging the federal government to provide direct aid to farmers and to expedite the purchase of additional dairy foods due to unprecedented disruptions in supply and demand due caused by the COVID-19 national emergency.
In a letter to the U.S. Department of Agriculture, the groups cited the mass closure of restaurants, schools and other food service outlets, decimated export markets and a sharp drop in prices farmers are being paid for their milk.
The Wisconsin Cheese Makers Association, Dairy Business Association and Edge Farmer Cooperative held a media conference call Thursday to discuss the current situation being experienced in the dairy industry and to call on USDA for direct aid to farmers and a massive dairy commodity purchase.
Participating in the press conference were:
• John Umhoefer, Executive Director, Cheese Makers Association
• Tim Trotter, Executive Director, Dairy Business Association and Edge Dairy Farmer Cooperative
• Gordon Speirs, Farmer/Owner of Shiloh Dairy in Brillion, Wisconsin
Listen here:
Dairy industry calls for direct aid (13:57)