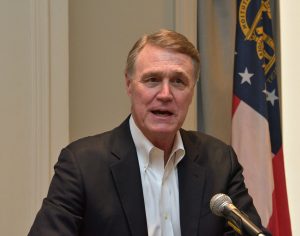 Senator David Perdue (R-GA) gave keynote remarks at the Southeast Regional Fruit and Vegetable Conference in Savannah on Saturday and said he was optimistic about the phase one agreement with China being signed Wednesday helping agriculture.
"I'm more optimistic than maybe some people are because I've been involved since the beginning," said Perdue in a brief interview after his remarks. "We have a pathway that will continue to see these small steps that will lead to a long term much more level playing field with China."
Sen. Perdue is also optimistic about getting USMCA passed in the Senate, as soon as they get the articles of impeachment out of the way.
2020 SRFVC Interview with Sen. David Perdue (R-GA)
(1:56)
During his address to growers, Sen. Perdue primarily focused on immigration reform and disaster relief.
2020 SRFVC - U.S. Sen. David Perdue, Georgia - Speech
(35:11)
2020 Southeast Regional Fruit & Vegetable Conference Photo Album