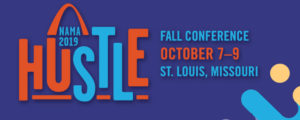 The 2019 NAMA Fall Conference is right around the corner already. Join agri-marketing colleagues in St. Louis October 7-9 for HUSTLE and be in the center of it all.
Learn from a great line up of keynote speakers this year. Create a culture of innovation using tips from Steve Lerch's decade at Google. Hear how Sarah Weise turns research into cohesive experiences and irresistible products. And True Food TV star Nicole Jolly will share secrets to distilling complex ideas into engaging stories. The Fall Conference closes with its annual session; Through the Lens of a Leader, featuring Jacqueline Applegate, President, Global Vegetable Seeds & Environmental Science, Crop Science division of Bayer.
Registration is open now and the early rate ends on September 16 so you better hustle!