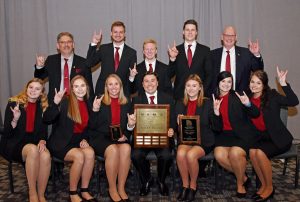 Congrats to the North Dakota State University Bison team for their first place win in the Student NAMA Competition at the Agri-Marketing Conference in Kansas City this week.
Team President Thomas Konetschka says it was the greatest experience of his collegiate career. "We've been close a lot of years, been in the finals a lot, so this is for all the teams that were a part of this in the last four years."
Listen to Konetschka and his teammates talk about the experience and be sure to check out the photo album for more pictures of the finalist teams – Texas A&M, Kansas State, Iowa State, University of Nebraska, and University of Guelph. Congrats to all of the students!
Interview with NAMA Student Competition Winners - NDSU