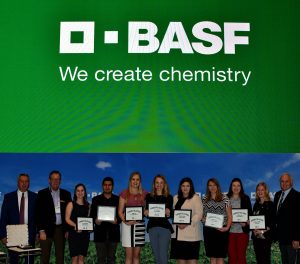 As it has for many years, BASF once again partnered with the American Soybean Association (ASA), the National Corn Growers Association (NCGA), the National Sorghum Foundation (NSF) and the National Wheat Foundation (NWF) to award $20,000 in academic scholarships to 11 agriculture industry students.
Jessica Olson of Warren, Minnesota received the $5000 2019–2020 ASA Soy Scholarship. NCGA presented scholarships to Kayla Beechinor, a junior from Walla Walla, Washington; Catherine Jones, a senior from Bellevue, Nebraska; Amber Oerly, a sophomore from Booneville, Missouri; Osler Ortez, a Ph.D. student from Nicaragua; and Krista Russell from Jerseyville, Illinois. NSF presented $2,500 scholarships to Isabelle Stewart of Columbus, Nebraska, and Payton Harrell of Spearman, Texas. And the National Wheat Foundation awarded scholarships to Kayla Beechinor, a junior at Washington State University; Samantha Fischer, a sophomore at Kansas State University; Adrienne Blakey, a junior from Stillwater, Oklahoma; and Storm Soat, a senior at Michigan State University.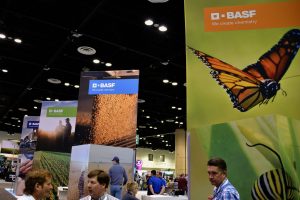 The new bigger and better BASF was on display at the Classic trade show, with new products to spotlight from last year's acquisitions.
Kerry Grossweiler, BASF Marketing Lead, U.S. Seed Solutions, was on the trade show floor talking with farmers about some of those new products like the soybean seed treatment ILeVO. Listen to Chuck's interview with him.
Interview with Kerry Grossweiler, BASF