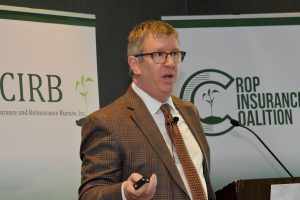 2018 was a very good year for the crop insurance and reinsurance industry and 2019 is looking good also.
"This was a momentous year for the industry, compared to what might have been," said Crop Insurance and Reinsurance Bureau (CIRB) executive vice president Mike Torrey in his update at the organization's annual meeting last week in San Diego. "We were incredibly excited that the farm bill was done and this is one of those rare moments in our industry that we should celebrate because it could have been very different."
Torrey talked about the importance of the Crop Insurance Coalition in providing a unified voice for the industry. "It got a 140 diverse farm, lending, input, conservation, crop insurance and reinsurance organizations…they started with zero," he said. CIRB will be having a bigger presence at Commodity Classic next week in Orlando to promote the coalition.
Torrey urged everyone in the organization to attend CIRB's upcoming Spring Fly-In and Policy Conference is April 3-4 in Washington, DC. "There's a hundred new members of Congress that need to hear your story," he said.
Learn more about CIRB's activities in Torrey's briefing.
CIRB2019 Michael Torrey, CIRB
2019 Crop Insurance and Reinsurance Annual Meeting photo album