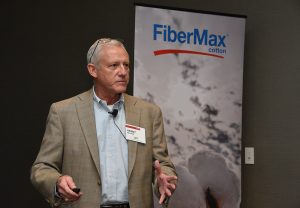 It's the first show of 2019 for ZimmComm. BASF is holding an inaugural APT (Agronomic Performance Trials) Summit just prior to the Beltwide Cotton Conferences. To learn what this means and get an overview of the Summit I spoke with Kenny Melton, BASF Western Region Agronomic Manager.
Kenny says the breeding group for BASF will hand off varieties for the field trials that make up this program. He says that from there the varieties are further developed and support is provided to the farms taking part in the program. The APT trials are all conducted using the farm's equipment and systems. Data is collected throughout the season and shared with the farmer. In fact, here at the APT Summit the 2018 trial data is being shared with farmers who will have an opportunity to interact with each other and the BASF field representatives from regions throughout cotton belt.
You can listen to my interview with Kenny here: Interview with Kenny Melton, BASF
I will be conducting more interviews with the attendees here at the Summit and will share when time allows. BASF is also announcing new cotton varieties for 2019 and I'll have that information too.
Photos from the BASF APT Summit and Beltwide are online here: 2019 BASF APT Summit Photo Album