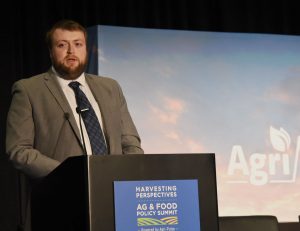 Agri-Pulse is promoting Spencer Chase to Managing Editor, effective December 1, 2018.
"Spencer continues to do great work for us, producing quality broadcasts and writing," said Agri-Pulse editor Sara Wyant. "We look forward to having him assume a key managerial role within our growing company."
Chase joined Agri-Pulse in 2014 as an Associate Editor, covering a wide range of farm policy issues. Since then, he has contributed to the company's website and weekly newsletter as well as increased the quality and quantity of Agri-Pulse's audio and video product offerings. He was promoted to Deputy Managing Editor in 2017 and began assisting in management functions for the company's editorial staff.
Chase replaces Managing Editor Daniel Enoch, who will retire from his full-time role at the end of the year.