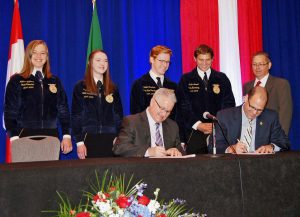 The National FFA Organization and the American Seed Trade Association (ASTA) have signed a memorandum of understanding that will align ASTA's strategic goals and resources with the three-component model of agricultural education, providing teacher curriculum and resources; supervised agricultural experience support and mentors; and leadership and career development.
"This Memorandum of Understanding helps stress the importance of the three-component model – agricultural education, FFA and supervised agricultural experience," said Mark Poeschl, chief executive officer of the National FFA Organization. "As we move forward in the 21st Century, we know it's important to provide tools to our members to ensure they become tomorrow's leaders in agriculture. This memorandum will help us sustain that growth in leadership."
The memorandum was signed during ASTA's recent Policy and Leadership Development conference in Washington, D.C. State FFA Officers from Maryland and Virginia also participated in the conference and shared a presentation regarding the three-component model.