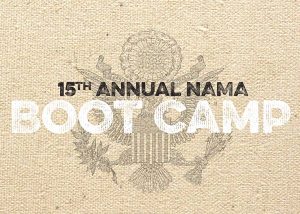 Registration is open for the 2018 National Agri-Marketing Association Boot Camp. I know it sounds tough but show us what you're made of and go to camp! NAMA Boot Camp takes place August 15-17, in Kansas City. Register here.

Whether you've just entered the rough working world or one who's been through the NAMA Boot Camp drill before, sign up for this program today to learn more about the agri-marketing industry. This year the Boot Camp will take it to a new level expanding on marketing and agriculture basics.
Who should attend?
Agency Account Executives
Media Professionals
Art Directors
Copywriters
Marketing Professionals
Sales Professionals
Previous Boot Camp Attendees
***All attendees will receive a notebook packed with agricultural terminology, facts, case studies and speaker presentations. This notebook has become one of the most popular aspects of the boot camp experience.
Did you attend last year?
If so, we want you back. This year's program is a perfect continuation of the previous programs. Plan to come early for the Ag Tour. This tour will be sponsored by the MoKan Chapter of NAMA. Whether you're new to the industry or a seasoned veteran, the Agri-Marketing Boot Camp will give you the tools you need to more professionally market to the ag industry.