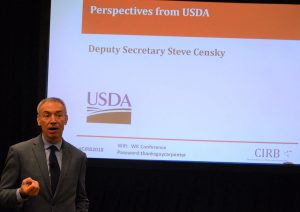 U.S Deputy Secretary of Agriculture Steve Censky visited the 2018 Crop Insurance and Reinsurance Bureau annual meeting this week in Scottsdale, Arizona.
"Our crop insurance program here in the United States is the envy of countries around the world," said Censky. At the same time, he admitted that the 2018 farm bill will be facing budget challenges. "The dollars are going to be tight, Congress is not going to have more money to write the next farm bill."
Censky also talked about the new Farmers.gov website introduced yesterday by USDA. The website will have multiple features added over the coming months to allow agricultural producers to make appointments with USDA offices, file forms, and apply for USDA programs.
In his remarks, Censky also talked about rural infrastructure, the need for Bill Northey to be confirmed, and trade issues. USDA Deputy Secretary Steve Censky
Censky also took questions from reporters including Sara Wyant and Jerry Hagstrom. Press Conference with Steve Censky
2018 CIRB Meeting photo album