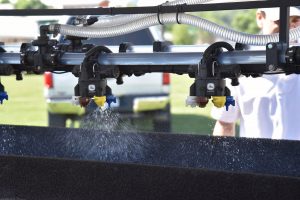 The American Society of Agricultural and Biological Engineers (ASABE) has recognized the ExactApply™ Nozzle Control System from John Deere with the AE50 Award for 2018. The award highlights the year's most innovative designs in product engineering in the food and agriculture industry, as chosen by a panel of international engineering experts.
Introduced in 2016, the ExactApply Nozzle Control system provides sprayer operators a comprehensive solution that improves the coverage and control of spray applications due to an industry-exclusive Pulse Width Modulation (30 hertz pulsing) and automatic A/B nozzle switching from the sprayer cab. The system also offers operators turn compensation, individual nozzle on/off control, LED lights in each nozzle body for improved visibility, and smart diagnostics to improve, monitor and document sprayer applications at the nozzle.
Doug Felter, product marketing manager for sprayers at John Deere, says ExactApply enhances existing technology on the market and combines it into one innovative product completely integrated into John Deere R-Series Sprayers and rate control systems.
Listen to Felter talk about the nozzle system at the 2017 John Deere Product Reveal. Doug Felter, John Deere ExactApply Nozzle System