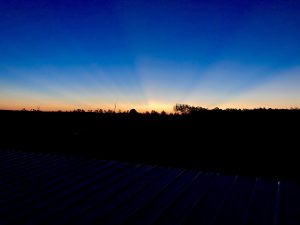 With this post I'm starting a series of posts about deer hunting this season. I have been provided a couple of different utility vehicles to test out and write about the experience. I'll be featuring photos and video during this year's season in Georgia which started on October 21 and goes through mid January. Here's one of the places I'm collecting photos that started with work days prior to this year's season. This photo is a sunrise opening weekend from my stand!
The Crystal Pig Hunt Club members are myself, my brother Paul, Gary Cooper and newcomers Gatlin and Jordan. Several of Paul's sons also get to hunt with us too. We lease almost 600 acres which have some pretty challenging terrain and trails. The property was clear cut before we started and planted in pines that are now about 12ft. tall. So trails are vital to our success. We've been working with the U.S. Forest Service on new fire trails around the border of the property this fall and that project should be completed today hopefully.
When it comes to vehicles we are testing a John Deere XUV8251 and a Can-Am Defender HD10. To say we're thrilled to have this opportunity would be an understatement. I know that the AgWired audience has a lot of hunters in it and many, many of them are farmers. These vehicles have all kinds of uses on a farm and we're putting them through the paces on everything from collecting firewood and filling feeders to hauling in deer.
BTW. It has been a successful season so far. I'll write more about that in upcoming episodes of this series.