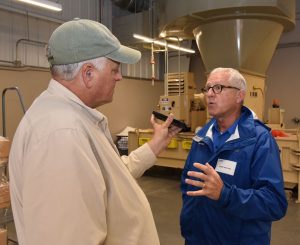 Growers attending the 2017 Bayer Showcase Plot Tour saw a brand new cotton breeding facility and had the opportunity to learn more about current cotton varieties as well as those that are up and coming. Western Region Agronomic Manager Kenny Melton said they especially heard questions about which varieties fit on acres affected by verticillium wilt.
"We have probably the best portfolio of varieties in the marketplace today in terms of verticillium wilt tolerance," said Melton.
Bacterial blight resistance is also on the minds of producers, along with general yield and quality concerns.
Listen to Chuck's interview with Kenny Melton here: Interview with Kenny Melton, Bayer