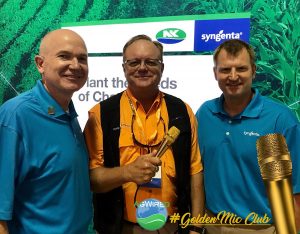 New members to the #GoldenMic Club include David Hollinrake, President of Syngenta Seeds and Quinn Showalter, Head, NK US Sales at Syngenta Seeds. I met with them during the Farm Progress Show to learn more about their announcement of increasing investment into the NK brand.
Growers who purchase corn and soybean seeds from retailers will have even more choice and greater value through the reinvigorated NK® seeds brand. Syngenta today announced a comprehensive long-term commitment to NK seeds that includes boosting research and development, expanding staff and enhancing retailer support.
As part of the investment, the number of U.S. plant breeders will increase by 50 percent while the number of product selection leads will increase by 38 percent. In addition, trialing will increase by 30 percent.
"More than ever, today's growers are looking for increased options to maximize returns. We are committed to investing in our NK seeds brand to deliver unique choice and greater value through our retail partners," said David Hollinrake, president of Syngenta Seeds. "We will rapidly bring to market new hybrids and varieties, offering greater value for growers to help them achieve that better ROI."
You can listen to my interview with David here: Interview with David Hollinrake, Syngenta Seeds
You can listen to my interview with Quinn here: Interview with Quinn Showalter, NK Seeds
View all our photos from FPS here: 2017 Farm Progress Show Photo Album