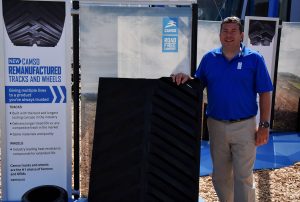 Camso announced at the 2017 Farm Progress Show a program aimed at making the old new again. Martin Lunkenbein, Service and Aftermarket Sales Executive Director for Agriculture, says the company's vision for the future is to offer products with multiple lives.
During the show, the Camso team shared details about the company's new remanufactured tracks and wheels program. "Later this year, we'll be launching our remanufactured tracks and wheels program. We're giving multiple lives to a product farmers have always trusted, thus showing once again our commitment to provide the lowest operating cost solution," explained Lunkenbein. Camso will remanufacture the wheels and tracks from the best, longest-lasting carcass in the industry and will use the same Camso original materials and quality. "Camso is continuously thinking about the next generation of tracks and innovation to the industry. With this program, we'll provide customers with an economical, effective and durable solution that will extend the use of tracks and wheels on their equipment," said Lunkenbein.
The company plans to launch pilot programs for remanufactured wheels in October 2017 and remanufactured tracks in January 2018.
Listen to Chuck's interview with Martin Lunkenbein at the 2017 Farm Progress Show: Interview with Martin Lunkenbein, Camso
View all photos from FPS here: 2017 Farm Progress Show Photo Album