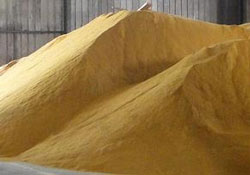 The government of Vietnam has notified the U.S. that it will resume imports of American distillers dried grains (DDGS), which were suspended in December 2016 after reported detections of quarantine pests in U.S. shipments, according to USDA.
Prior to the suspension, Vietnam was the third-largest market for U.S. DDGS, with exports valued at more than $230 million in 2016. The resolution of this issue also opens the way for corn and wheat shipments, which were restricted due to previous treatment requirements.
The DDGS ban is one of several agricultural and other priority issues raised in connection with Vietnamese Prime Minister Nguyen Xuan Phuc's visit to Washington in May 2017, where he met with President Trump as well as Secretary of Agriculture Sonny Perdue and U.S. Trade Representative Robert Lighthizer. Following the series of meetings, the two governments released a joint statement pledging to work closely together to resolve the DDGS issue.