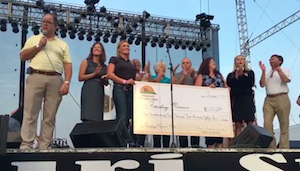 The Missouri Farmers Care (MFC) launched the Drive to Feed Kids on the opening day of the Missouri State Fair in an effort to combat childhood food insecurity and showcase Missouri agriculture. Funds from the Drive will leverage food bank distribution networks to deliver kid-friendly meals to hungry children across Missouri. The Drive is led by Missouri Farmers Care, Feeding Missouri, Brownfield Ag News, the Missouri State Fair and Missouri FFA.
"Hunger isn't an issue that only happens somewhere else," said Alan Wessler D.V.M, chairman of MFC, "it is a pervasive concern across Missouri's rural communities. All of us in agriculture are focused on doing our best to produce food. We're also focused on making our communities the best they can be. When children face hunger, it presents challenges in coming to school able to learn and thrive. It is time to consider what we can do to help. The good news is that regional food banks, affiliated through Feeding Missouri, have a proven and efficient way to deliver food to those who need it most."
On opening day a screening of "Where the Fast Lane Ends", a film showing the responsible use of agricultural science and technology, also took place. The screening was followed by a concert featuring Sawyer Brown with Royal Wade Kimes. Sawyer Brown lead singer, Mark Miller, wrote and produced "Where the Fast Lane Ends." A check for $165,284 was presented to Feeding Missouri during the concert, but it's not over. More is in the works and you can do your part.
To continue the efforts, the Missouri FFA Association hosted a food packing event and food drive as part of the Drive and in partnership with Monsanto and Brownfield Ag News.
Tim Steever, Brownfield Ag News, was on the ground for opening day and shared some conversations he had with key leaders of the event.
Interview with Dr. Alan Wessler, Chairman of MFC
Interview with Monica Palmer, Feeding Missouri
Interview with Mark Miller, Lead Singer, Sawyer Brown