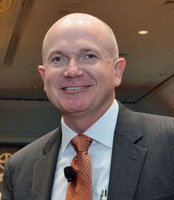 The next time David Hollinrake is interviewed with the Golden ZimmComm Microphone he will be working for a different company, as he has just been named President for Syngenta Seeds, LLC and Syngenta North America Region Director.
In this role, David will strengthen Syngenta's North American seeds business by driving improvements already underway to ensure maximum focus on customers with a choice of top genetics, traits and agronomic support particularly suited for their specific growing location in the U.S. David will be based in Research Triangle Park, North Carolina.
Jeff Rowe, Syngenta president of Global Seeds and North America said, "David brings more than 25 years of agriculture experience with a laser focus on meeting customer needs. He has a proven track record in strategic and product planning, organizational design, business development, and sales and marketing—and he is an excellent communicator."
In his previous role as Vice President of North America Marketing and Portfolio Management for Bayer CropScience LP, David led business strategy efforts, and marketing and portfolio change while achieving impressive net sales growth for the company.
In addition, David Treinen has been named head of GreenLeaf Genetics® (GLG), Syngenta's operation dedicated to serving independent seed companies with a competitive portfolio of corn, soybean and wheat genetics, market-leading Agrisure® corn traits and Syngenta Seedcare products. David will be based in Minnetonka, Minnesota.
Most recently David was Northern Seed Manager for Pinnacle Agriculture, David set a successful strategy for growth in seeds while working across functional groups to integrate independent regional businesses into the organization. Also, David was instrumental in setting strategy and launching a new seed brand across Pinnacle.
Both appointments are effective in the first week of June.