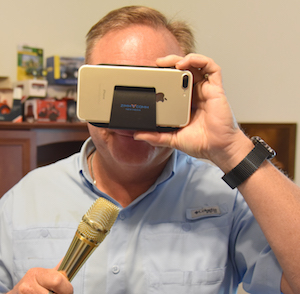 Bring your eyes and ears to the ZimmComm New Media booth at the 2017 Agri-Marketing Conference Connection Point trade show to see and hear about agriculture's virtual newsroom and podcasting as we Go Big with Facebook Live.
Joining us is the U.S. Farmers and Ranchers Alliance (USFRA) to provide demos of their new 360-degree pig videos, which utilizes a virtual reality (VR)-style headset to go inside a modern pig farm. Learn about agriculture's virtual newsroom, AgNewsWire.com, and take home your own VR-style smartphone goggles.
We will also be talking about podcasting, which has been gaining in popularity recently as more people are creating their own personalized programming on their smartphones and tablets. Our very own @FarmPodcaster has been co-host of our ZimmCast since 2005 and this year started the new USFRA SMART Farmer podcast. Learn about farmpodcasting and enter to win a set of your very own AirPods so you can be as cool as @AgriBlogger.
Beyond the Connection Point, you will see the ZimmComm Golden Mic and camera in action as we cover all the happenings at #NAMA17. Watch for our official Facebook LIVE Go Big NAMA coverage on AgWired's Facebook page of the Best of NAMA, Connection Point and the Student NAMA Awards. Stay tuned and Go Big with us!