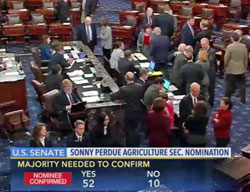 The U.S. Senate has formally confirmed the nomination of George Ervin "Sonny" Perdue III to serve as the 31st Secretary of Agriculture. The final vote was 87 to 11.
Agribusinessman, veterinarian, state legislator, and governor of Georgia, Perdue worked on the family farm in central Georgia andn will be only the fourth agriculture secretary who can claim to have been a farmer. According to his bio from USDA, it was the family farm which shaped Sonny Perdue. "He has lived and breathed the exhilaration of a great crop and the despair and devastation of a drought. He learned by experience what his father told him as a child, "If you take care of the land, the land will take care of you.""
Perdue recognizes that agriculture is an issue and industry which cuts across political party boundaries. He recognizes that the size, scope, and diversity of America's agricultural sector requires reaching across the aisle so that partisanship doesn't get in the way of good solutions for American farmers, ranchers, and consumers.
Perdue was the last cabinet member to be nominated before President Trump took office in January but there is still one more to be confirmed and that is Alex Acosta, who was second choice for labor secretary after Trump's first choice withdrew. Perdue is scheduled to make his first remarks to USDA staff members at 9:00 am Eastern time Tuesday morning.
Listen to the comments of senators supporting Perdue's confirmation on the floor Monday.
Sen. Mitch McConnell (R-KY) – McConnell/Perdue
Sen. Pat Roberts (R-KS) – Roberts/Perdue
Sen. Debbie Stabenow (D-MI) – Stabenow/Perdue
Sen. Jon Tester (D-MT) – Tester/Perdue
Sen. Johnny Isakson (R-GA) – Isakson/Perdue