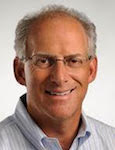 Mike Stern, Chief Executive Officer of The Climate Corporation, a subsidiary of Monsanto Company, has been selected as the National Agri-Marketing Association (NAMA) 2017 Agribusiness Leader of the Year. The award, considered NAMA's highest honor, will be presented at the 2017 Agri-Marketing Conference in April.
Mike Stern exemplifies the spirit of the award through his understanding of the challenges farmers face and his passion for solving agriculture's most pressing issue: the need to feed a growing population while minimizing the impact on the environment. Stern and his team are on the forefront of solving this problem through digital agriculture, which holds the potential to unlock the next giant leap in farming productivity and efficiency. Through the combination of advanced data science, sensors and seamless connectivity of farm data, Climate is helping farmers gain a deeper understanding of their fields with data-driven, real-time insights delivered through digital tools available right at their fingertips.
Stern has served the agriculture industry by providing testimony to the U.S. House Committee on Agriculture on the importance of privacy, speaking about the potential of digital ag and helping to launch the America's Farmers program that supports rural communities and schools.