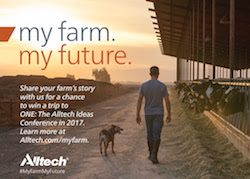 Alltech knows producers have a rich story to tell, which is why they're calling on farmers and ranchers to submit a one-to-two minute video describing how they protect their farm's future for the "My Farm, My Future" contest.
Winners will earn a trip to ONE: The Alltech Ideas Conference in Lexington, Kentucky from May 21-24, 2017.
Videos are due online by April 3, 2017 at 9:00 a.m.EST. Full contest rules and detailed are available at http://one.alltech.com/my-farm-my-future. Finalists will be selected by Alltech and winners will be selected on the Alltech Facebook page using "likes" starting April 3, 2017 at 3:00 p.m. till April 10 at 12:00 p.m.
Registration is open now for ONE: The Alltech Ideas Conference, held in Lexington, Kentucky, USA, from May 21–24. The annual international conference draws more than 3,000 attendees from more than 70 countries to network and discuss world-changing ideas. For more information or to register, visit one.alltech.com. Join the conversation online with #ONEBigIdea17.