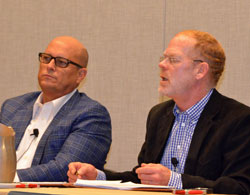 The election of Donald Trump as president of the United States has ushered in a whole new political landscape, which was discussed during one of the sessions early Monday morning at the American Farm Bureau Federation 2017 Annual Convention.
"What we thought was impossible politically is now possible," said Stan Barnes, President, Copper State Consulting Group in Phoenix. "We're not in a normal world."
Barnes, a former Arizona state legislator, was joined by Billy Moore, political strategist with Vianovo, to take a deep-dive into the impacts of the election, issues facing the President and Congress and the implications for the first 100 days. "The deadline is not the first 100 days anymore," said Moore. "The deadline for Congress and the president to have shown real action is the beginning of August. Trying to muscle too much through in the first 100 days leads to failure."
Both agreed that the only certainty about the new political landscape is that it will be very different.
AFBF New Political Landscape session