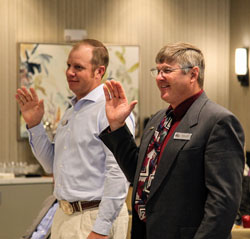 The Sorghum Checkoff Board swore in one new and three returning directors this week at the annual board meeting in Lubbock, Texas.
Returning to the board are Martin Kerschen of Kansas; Daniel Krienke of Texas; and Clayton Short of Kansas. Newly appointed to the board is Kent Martin of Oklahoma. The newly sworn in board members were appointed by the U.S. Agriculture Secretary Tom Vilsack in October and will serve a three-year term.
New leadership was also elected during the December board meeting with David Fremark of St. Lawerence, South Dakota now serving as chairman, Krienke as vice chairman, Short as secretary, and Verity Ullibarri of New Mexico as treasurer.