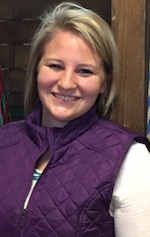 Learfield News & Ag is delighted to announce that Stacy Bettinghouse has become the latest addition to the Brownfield Ag News Sales Team. Stacy will work with Brownfield's advertising partners in Michigan, Ohio and Indiana.
"Stacy will be a great addition to the Brownfield team and will strengthen our relationships with advertisers in these key states," said John Baker, Senior Vice President of Learfield News & Ag.
Bettinghouse received her Bachelor's degree in Animal Science from Michigan State University, and was previously employed with the Michigan Cattlemen's Association and Michigan Beef Commission. She most recently served as Milling & Grain Department Territory Manager for Neogen Corporation.
The addition of Bettinghouse comes as Brownfield recently acquired Minnesota Farm Network and Michigan Farm Radio Network, expanding their existing coverage in Iowa, Illinois, Missouri, Indiana, Ohio, Wisconsin, South Dakota and Nebraska to solidify Brownfield's footprint in the U.S. corn and soybean belt. More than 400 radio stations carry agricultural programming created by Brownfield's award-winning team of a dozen full-time farm broadcasters.