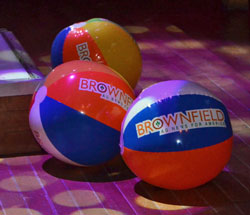 It was a perfect night for a Brownfield Beach Bash last week in Kansas City at the National Agri-Marketing Association (NAMA) convention.
Brownfield Ag News carried on its annual tradition of the Thursday night part at NAMA and this year the venue was the Shark Bar in the Power and Light district. Guests sported flowered leis and carried tropical drinks with those cute little umbrellas while kicking around beach balls and enjoying the company of old and new friends.
We were happy to once again be able to document the party goings this year and we thank Brownfield for also being one of our NAMA coverage sponsors. Enjoy the photos!
NAMA16 Brownfield Beach Bash photos
Coverage of the Agri-Marketing Conference is sponsored by
Brownfield Ag News
and
Nufarm