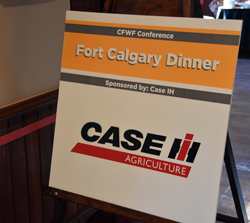 My online coverage of the 2015 Canadian Farm Writers Federation Annual Meeting was sponsored by Case IH. Attending for the company was Dan Danford.
We had a great time, especially supper at Fort Calgary. Sponsored by Case IH!
Before the end of the conference I visited with Dan to find out why Case IH supports CFWF. We also talked about the similarities and differences in agricultural journalism between the United States and Canada.
Listen to my interview with Dan here: Dan Danford - Case IH