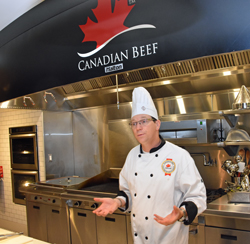 Beef is what was for lunch during one of my tour stops at the Canadian Farm Writers Federation Annual Meeting. Excellent beef. Beef from the Canadian Beef Centre of Excellence to be precise.
This center opened earlier this year and is a Canadian beef and veal innovation, training, education and culinary marvel. The key areas are a presentation room, meat lab and fully stocked cafeteria with state of the art cooking appliances. Our tour guides included Marty Carpenter, Abe Van Melle and James Bradbury. Watch them in the video below.

Canada Beef is an independent national organization representing the research, marketing and promotion of the Canadian cattle and beef industry worldwide. Its efforts to maximize demand for Canadian beef and optimize the value of Canadian beef products is funded by cattle producers and the National Beef Check-Off, which in turn makes it possible to access beef industry market development funds provided by the Government of Canada and the Government of Alberta.