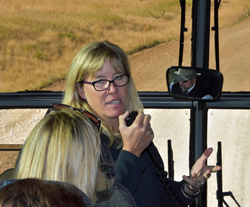 I went North young man. As in on the North Tour during the Canadian Farm Writers Federation Annual Meeting. Our fist stop was CL Ranch where we met Cheri Copithorne-Barnes.
This ranch has a fascinating story. It was established in 1887 and they raise 2,000 cows at the main ranch on the edge of Calgary, Alberta. Besides raising cattle the ranch has a western town for filming movies. Think Lonesome Dove tv series, Shanghai Noon and right now the next season on AMC of Hell on Wheels.
Here is our opening presentation by Cheri in which she talks about the ranch and answers questions.