It seems like tracks are becoming more popular on large equipment these days. Like the new John Deere 9RX four track machine. Guess who makes those tracks? The answer – Camso. Let me introduce the company to you.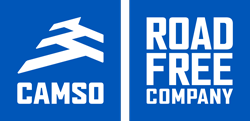 Last week the company announced this new name. Prior to the name change there were two companies Camoplast and Solideal. You can read about the name change here. While I was at Farm Progress Show I visited their exhibit and sat down to talk with Pierre Marcouiller, Chairman/CEO, Martin Lukenbein, Business Line Executive Director, Agriculture and Derek Bradeen, Director of Marketing and Communications.
During our conversation we talked about the history of the company, why they changed their name, what products they offer the ag industry and what they see as the future for off road track products. The company employs 7,500 people in 27 countries. In the ag sector their focus is on the farmer. They encourage farmers who might even be interested in retro-fitting their equipment with tracks to contact their local OEM dealer since they supply products to most of the top farm equipment manufacturers.
Listen to this week's program here to learn all about the new Camso: Camso the Road Free Company
Subscribe to the ZimmCast podcast here.