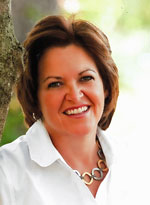 After a brief stint with a global sustainable food group, Anita Vanderwert is back where she belongs – at Brownfield Ag News.
Most of us in the agri-marketing world have known Anita for the many years she did sales for Brownfield and parent company Learfield. Now her job is Business Development Director where she will work closely with the network's national sales team to find solutions for Brownfield's advertising partners.
"We are extremely excited about Anita's return to the Brownfield family," said John Baker, Senior Vice President of Learfield News & Ag. "Anita will work with our team to explore new product and service offerings that compliment and support the expansive Brownfield Radio product."
Vanderwert brings over 25 years of ag marketing and sales experience, having previously worked with Learfield, Osborn & Barr, Rhea & Kaiser, National Cattlemen's Beef Association and the American-International Charolais Association. Most recently, Vanderwert was Head of Sales for the Americas for Benchmark Holdings.
Welcome home, Anita!